RSS Akhil Bharatiya Prachar Pramukh Dr. Manmohan Vaidya briefed the press ahead of the three day Akhil Bharatiya Karyakari Mandal taking place in Kerala. Akhil Bharatiya Sah Prachar Pramukh J Nanda Kumar and Prant Karyavah P Gopalankutti Master were also present during the press conference. Following is the text of the press briefing.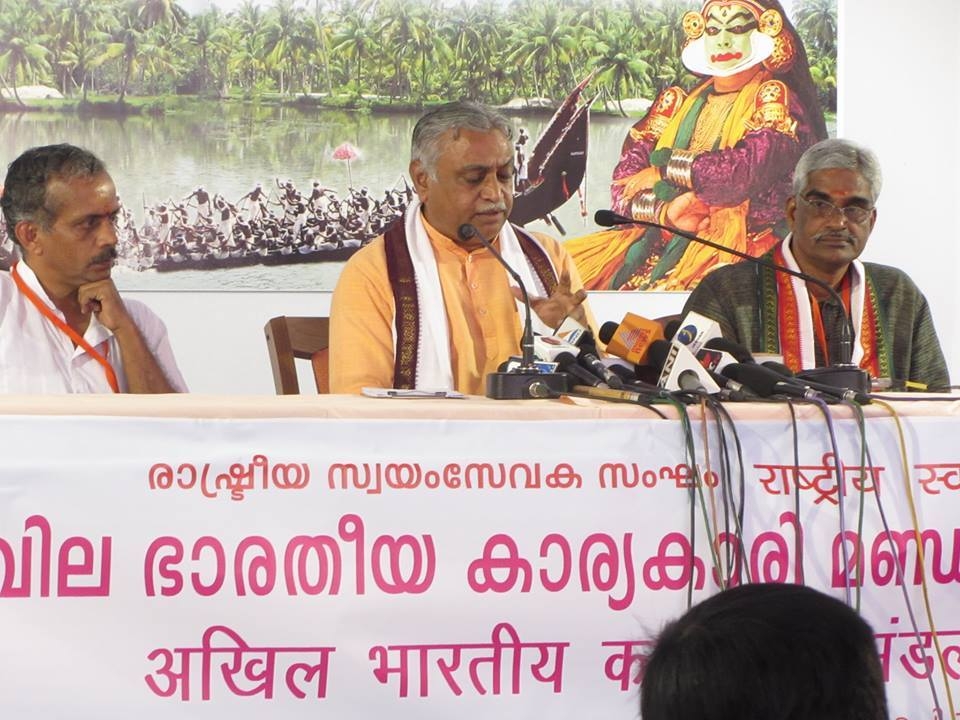 The three-day Akhil Bharatiya Karyakari Mandal beginning today in Kerala will discuss three major issues – Border security, Environment friendly development and increase of radicalization among the Muslim community in the country. This was announced by RSS Akhil Bharatiya Prachar Pramukh Dr Manmohan Vaidya here today.
Briefing newspersons on the eve of the Karyakari Mandal, he said that the importance of improving the infrastructure for border security, the need of better living amenities of the people in the border areas as well as country's foreign policy would be discussed in detail.
Pointing out that development should not be at the cost of environment, he said that issues related to Western Ghats are certainly a matter of concern and it is appropriate that the same is being currently discussed in the country. He added that only those development projects which are environment friendly should be implemented. Dr. Vaidya said that the increase in radical elements among the Muslims, especially in South India, would be a serious matter for discussion, and the three day meet would bring out resolutions on all these above issues.
Stating that the Karyakari Mandal is taking place for the first time in Kerala, he said , that the meet would take stock of organizational matters and major programs including those connected with the 150th birth anniversary celebration of Swami Vivekananda. The meeting would also evaluate the observation of Sankalp Divas, demanding the construction of a Ram temple in Ayodhya, in which about 11.5 lakh people, including two lakh women, took part at 20, 000 places across the country.
The three-day Akhil Bharatiya Karyakari Mandal will be inaugurated by RSS Sarsanghchalak Dr. Mohan Bhagawat and presided over by Sarkaryavah Shri Suresh (Bhaiyaji) Joshi.
To a question on the demand for a Ram temple in Ayodhya, he said "it is the demand of the Hindu society, and the RSS would support Sadhus and Sants who are at the forefront of the Ram temple movement". Dr. Vaidya said that government should enact a law to construct the temple in Ayodhya.
On BJP President Rajnath Singh's visit , he asserted that the President came here as a party worker to share matters related to national interest, and there was no discussion on political matters.
Answering a question related to Dr Mohan Bhagawat's call on 100 per cent enrolment of voters, he said the meeting would discuss the necessity of the enrolment of youths in the voters list and 100 per cent voting in the coming elections.