Bangalore March 05: Dr Manamohan Vaidya, Akhil Bharateeya Prachar Pramukh of RSS, briefed the press about the Akhil Bharatiya Pratinidhi Sabha, ABPS, which will be held at Rashtrotthana Vidya Kendra,Thanisandra, in Bangalore for 3 days beginning 7th of March.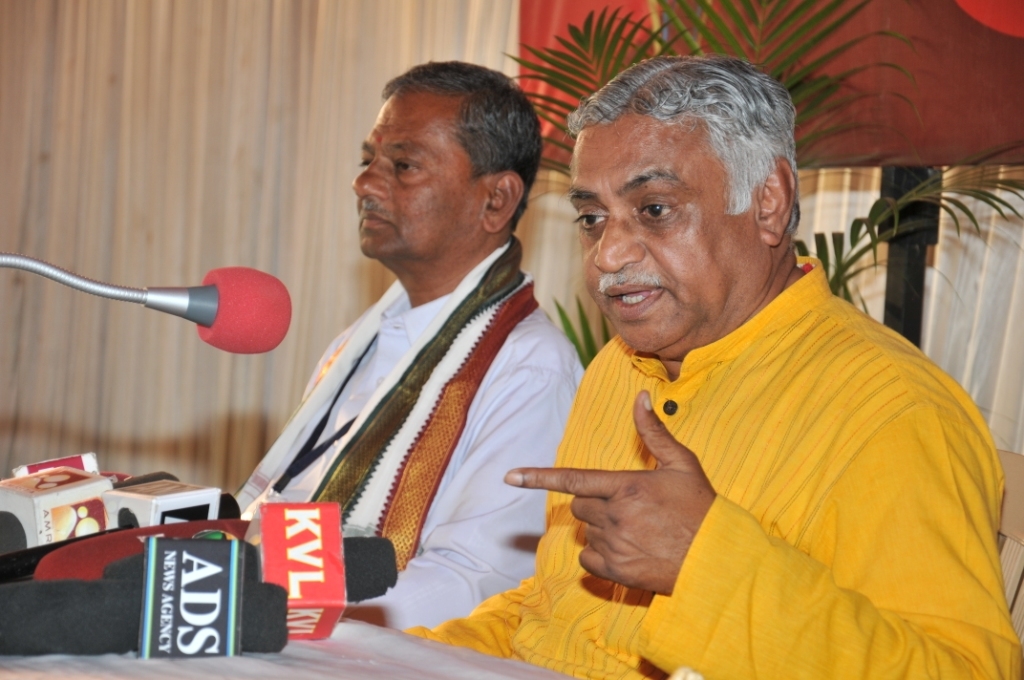 While addressing the press, Dr Vaidya told that Akhil Bharateeya Pratinidhi Sabha is the yearly meeting of RSS for evaluation of annual programs and performance.Around 1400 selected RSS representatives and office bearers of vividha kshetra organisations from various part of the country
will participate in the three day meet. He said that the reports and achievements of organisations working in different social domains will be discussed during the meet.
Dr Vaidya informed that 'Akhila Bharateeya Karyakarini Mandali (ABKM), which comprises of Sanghachalaks, Karyavaha and Pranth Pracharaks of 41 pranths of Bharat, is also meeting today i.e. 6th March, to discuss various issues. Elected Representatives of RSS-Shakhas from all regions of the country, state level office bearers of RSS, National office bearers of Sangh affiliated (Sangh vividh Kshetra) organizations will be present for all the three days of the meeting'

No political decision in ABPS: RSS Clarifies

Dr Vaidya told that no political decision will be taken in the meeting as described by some of the media and the meeting is for discussing and evaluating RSS work. Activities of all these orgainizations will be submitted in the meeting. State-wise activities of the RSS will be reviewed. Important national issues will be discussed. More than 1400 Social workers from different walks of life from nook and corner of the country will participate in the meeting.
While answering the attendance of BJP leadersto the meet, Dr.Vaidya informed that Ramalal from BJP and Rajanath Singh, the president of BJP, will also be present on 8th March.
Answering the question on RSSs' role in elections, he said that RSS has always taken the stand that voting percentage in the elections should increase, hence RSS svayamsevaks are working towards creating awareness among the people about enrollment and voting. RSS Karnataka Pranth Sanghachalak M Venkataramu, RSS Pranth Prachar Pramukh Vadiraj, RSS Bangalore City Secretary KS Sreedhar were also present during the press briefing. Karnataka's Vishwa Samvada Kendra coordinator Rajesh Padmar welcomed the guests. RSS ABPS meet is being held in Bangalore after a gap of 12 years, last time it was held in 2002.